AutoDesk Inventor and SolidWorks are the most commonly used CAD software in the industry. They are all state-of-the-art parametric based CAD software and they deliver the best value in 2D and 3D design for the manufacturing industry. The association between 3-D parametric models of parts, assemblies, and 2-D drawings is one of the best features on these programs. Modification in 3D parts, assemblies or 2D drawings will automatically update associated environment. This helps designers create design data more quickly, share design data more easily, and manage software more efficiently. This is an important feature that introduces high levels of performance in the engineering world of CAD/CAM/CAE, particularly when working on large assemblies.
---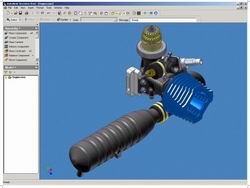 AutoCAD Inventor Series
Autodesk Inventor can open AutoCAD, AutoCAD® Mechanical, Autodesk Mechanical Desktop DWG files and convert their files into 3D Autodesk Inventor files almost instantly. This also means you have all the functionality of AutoCAD and AutoCAD Mechanical Desktop and Autodesk Inventor right at your fingertips.
---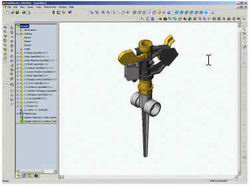 SolidWorks

SolidWorks's functions and environment is similar to Microsoft Windows such as drag-and-drop, point-and-click, and cut-and-paste. If you know Microsoft Windows, you're well on your way to designing with SolidWorks. Familiarity with Windows functions allows you to become productive in hours, proficient within weeks. You will be able to create 3D models from existing 2D data with the best available transition tools. In addition you can enjoy unmatched design communication capabilities, including eDrawings, a breakthrough in sharing 2D and 3D product design information.